------------
25.-27.10.2019 - " Kunst im Gewächshaus" in Morbach

The exhibition Elena Schmidt and I were invited to present our works at was the most extensive and most complex we have done this year. And it was - thanks to the location, my co-exhibitionists and last but not least thanks to all the people involved from the organization team in Morbarch - the most wonderful experience this year. Arriving in the Gärtnerei Berg Wednesday afternoon and unloading about 1.2 tonnes of exhibition material was a promising start. Thursday saw the building of the exhibition in a greenhouse area of approximately 2200 sq ft including lighting installation in the evening and lo and behold - we managed nearly everything before bedtime! So Friday was rather relaxed with just putting up the information paperwork before the room filled up for the vernissage. Big introduction by the organization team, artist interviews by Laas Koehler, music performance by Sarah Yacine and "free roaming" for the visitors - it went well into the night and not a single second of it was boring!
Saturday then saw even more visitors enjoying the spirit of the Greenhouse (including top notch snacks from the pizza oven!), the exhibition and - a very well received experiment - the Wasserfuhr-Brothers performing Jazz on piano and flugelhorn. Unusual combination of instruments but very very soulful presented by Julian and Roman Wasserfuhr.
Good only the next day did not request the artist's presence too early so after a very long night with the co-artists and the organizers we made it in time for the traditional "breakfast amongst art" event. Seemingly half of Morbach's inhabitants turned up to have another look at the paintings and sculptures at daylight and a chat with the artists while enjoying a healthy breakfast provided by the organizers.
Late evening then saw us arriving at home after a long and exhausting but very very exciting and happy weekend, spent with wonderful people in a location that gave our artwork the best frame imaginable.
Again a heartfelt "Thank you!" to everybody involved in this event - too many to list here but you all know you are meant!
And we already look forward to seeing what you present next year; we will come as visitors but it will be like coming home...
------------
05.+06.10.2019 - "Art Mile" in Düsseldorf-Unterbach
Hosting more than 40 artists at 16 locations, the 21st "art mile" in Düsseldorf-Unterbach was again very impressively provided with. As at the events of the last two years our sculptures were supported by the wonderful ambience of Atelier Kühn-Löwe. Despite Sunday's weather was hardly an invitation to leave any roofed areas, a good many visitors made their way to art point 13 with its wide lineup of painting, photography, jewelry and sculptures made from steel, stone and paper. Quite a lot of lively conversations with well-known, new and surprising guests came of that and so - regardless of the monotonous-monochromatic colour of the skies - the atmosphere was sunny throughout the weekend.
This makes for happy exhibitions!
------------
27.-29.09.2019 - Aachener Kunstroute 2019, Invitation to the Skulpturenhügel (Senserbachweg 210, 52074 Aachen)

The invitation to exhibit at the Aachener Kunstroute 2019 (art walk) at the Skulpturenhügel (sculpture hill) came quite as a surprise but nevertheless we didn't hesitate to accept. At the entrance to the roughly 3000m² (just under 4000 sq yds) area which is in large parts kept carefully natural, my Koi greeted the visitors. Another more than a dozen of my pieces fitted beautifully into landscape and nature so that the conoisseurs (who had to brave the weather at times) could find ever so often surprising and new views within the well-known and well-renowned sculpture hill.
Our heartfelt thanks go towards our co-exhibiting artist colleagues and especially towards our host Birgitta Lancé with family!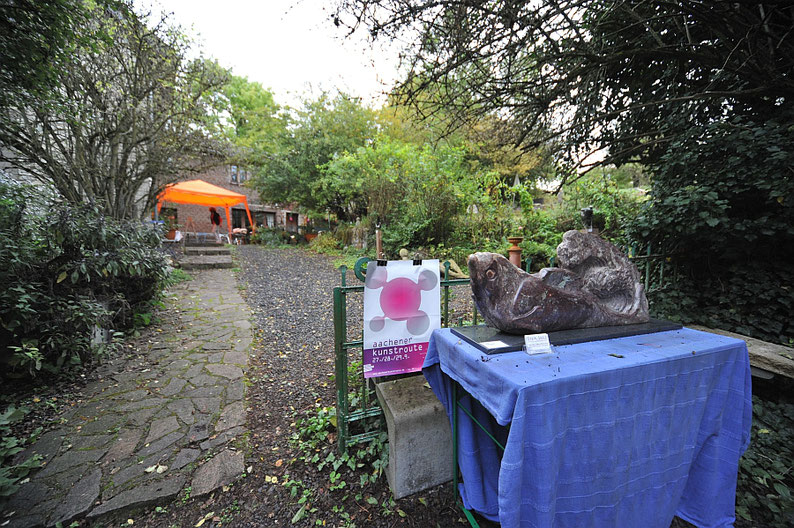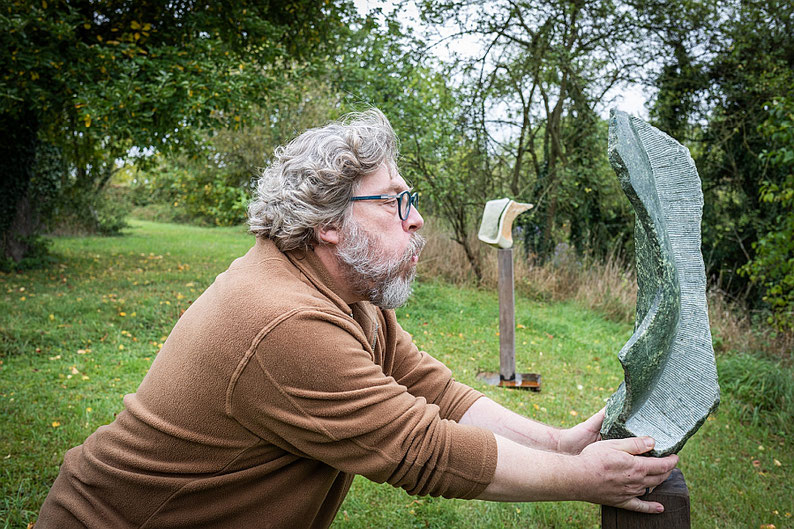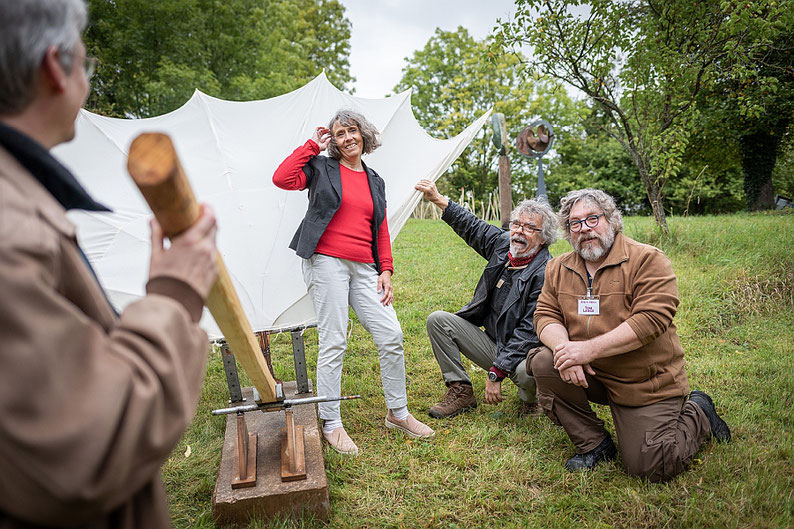 ------------
24.-25.08.2019 - ArtBrüggen 2019
Meeting again with Brüggen held a small surprise for us - but for the visitors of this year's international art fair as well. Surprising how many of the visitors still knew us from last year! But surprising as well for those who experienced for the first time our combination of sculptures, copper etchings and xylography - as we showed the works of  Atelier Farbenschmiede too.The ArtBrüggen is definitely developing further, prominence and radius of being known grow (as we were told by may visitors) without letting suffer the familial and cooperative atmosphere. It was really nice again!
------------
07.-14.07.2019 - H2O at Ballhaus, Nordpark Düsseldorf with Kulturinitiative Unterbach
This time wo - of the artist group "unart" from Kulturinitiative Unterbach - had chosen a current as well as controversial subject. Well over half a year's time went into collecting our ideas concerning "water", into sorting, probing and finally transforming them in a creative way before we presented the results during this one-week-long exhibition. Our intention was to show the beautiful as well as the horrible, the vulnerability as well as the power of the element without which our lives would perish: water - H2O.
How well that worked became clear by the many and (to a major part) very intense discussions with our visitors who quite often abandoned the idea of a "quick peek" in favour of getting enthused and contemplative at the same time.
------------
14.-16.06.2019 - art'pu:l Eupen 2019, 9th edition - for the 4th time in Eupen
A wonderful sourrounding in the old butchery in Eupen, hosts who are artists themselves (and not marketing people), a very interested and art-knowing audience - small wonder that the art'pu:l  fair  has a splendid reputation not only with artists but with art lovers as well. This reputation includes the wide and at the same time balanced range of art as well as the really high quality standard that supports it. It was a honour as well as a great joy to participate - and we will return!
------------
15.-17.03.2019 - HanseArt Lübeck 2019, 18th edition

Been accepted together with a very nice colleague (Photographer) for the HanseArt Lübeck and had three very agreeable and nice art-fair days. Not only that the host showed a so far unknown esteem for us artists (all of us were individually named during the opening speech!)  but in addition a very interested and knowing audience made us forget all the labour spent in setting up the stall, packing and transporting all the artwork as well as the long and tedious trip to Lübeck. Thanks to this and all the good contacts with our artist colleagues, we will apply again!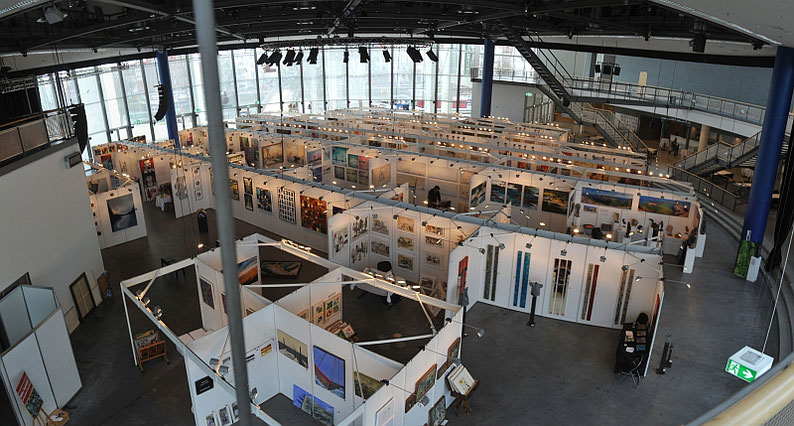 ------------
26.-28.10.2018 - C.A.R. (Contemporary Art Ruhr) 2018, the 12th edition

For the first time at the C.A.R. art fair and it was a real experience!
This year, three fellow artists (Susanne Scheidle, Michael Pischke und Dieter Gregert) and I formed - by initiative of Monika Schwarz - the team Kunst-Focus / RuhrArt . Generally our booth had (considering the position within the fair premises) a pretty high volume of visitors and whoever perceived how comfortable our guests felt and how many intense conversations about art were taking place, will not be suprised that we were planning future collective events during our first joint fair already.
And yes, it still feels very good to receive so many acknowledgements for one's work, from visitors and artist colleagues alike.
------------
06.+07.10.2018 - "Art Mile" in Düsseldorf-Unterbach

It was a truly wonderful weekend at the 20. Kunstmeile in Düsseldorf-Unterbach. Contrary to the weather forecast no liquid sunshine came from the skies and thus our sculptures, on display in our host's garden (Atelier Kühn-Löwe) not only stayed dry but were a real magnet for the spectators which were not only very interestd in art but knowledgeable as well. The stream of visitors was constant enough to keep my wife and myself from visiting the other art bases and enjoying the works of our artist colleagues - I want to express my sincere apologies to the other members of the Kulturinitiative Unterbach and all guest artists!
The advanced schedule this year (first weekend in October) was at least in the opinion of the exhibitors and visitors of the "art base 13" a definite improvement over the last years with respect to temperature, daylight hours and probability of rain (or rather: the lack thereof).
We are very expectantly looking forward to next year's event!
------------
25.+26.08.2018 - ArtBrüggen 2018

An international art fair in the Burg-community Brüggen for the very first time, that was a venture indeed. Which we (my wife and I) countered with approximately 650kg of sculptures, plinths and other equipment which we made good use of to presenting an adequate profile of my works. Our visitor's reactions (as well as these of our artist colleagues and of our host) showed we are on the right track. We are looking forward to the ArtBrüggen 2019 already - that fair is again scheduled for the same week-end as the Burgfest in Brüggen which is pulling visitors from a vast area (including the Netherlands) for quite some years already.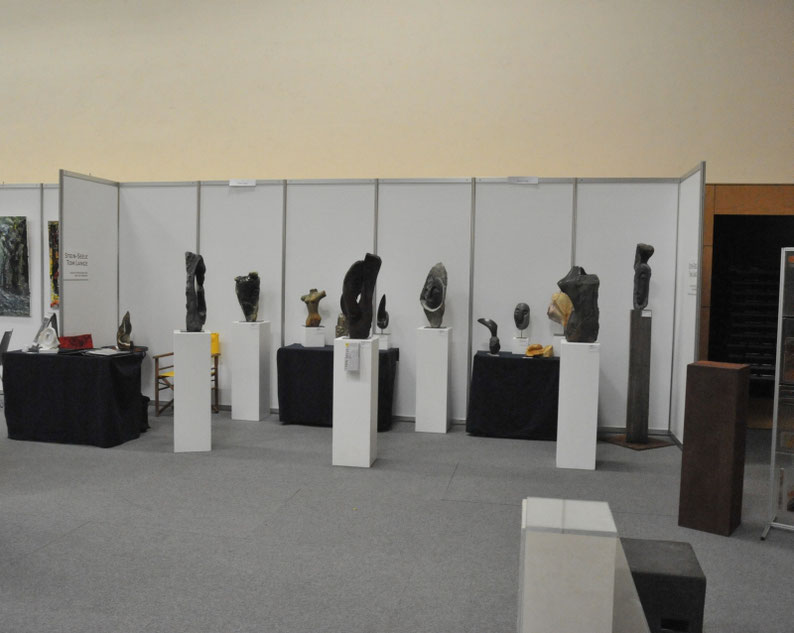 ------------
 28.07.2018 - Art in the Park / Summerfest at Haus Unterbach
Under perfect skies (well, if one has not to move heavy things) the "Art Market" was a complete success. The artist group  "unart" had erected their pavilions in a rough circle so the visitors had a good and coherent view of the different disciplines and styles which are brought together in our artist's society. Lots of very nice conversations with a very interested audience were accompanied by soft background music and the fragrance of coffee, cakes and even more savoury things. Pity only that this event is bi-annual only...
------------
14.04.2018 - "Night of the Museums" in Düsseldorf

Most definitely no boring night at the gallery Art4Bilk, Brunnenstr. 10, 40223 Düsseldorf - of the event's six hours less than half an hour was really "quiet". With the weather at its best and accordingly cheerful and knowledgeable audience a veritable lot of interesting talk and some very nice contacts emerged, which have intensified since. In den gallery proper this year the range of paintings, objects and jewelry was extended by Regine's string puppets but my sculptures were able to convert the thoroughfare to the rear house into an alley to look, wonder and discuss. I am looking forward very much towards next year's "Nacht der Museen"...

 
------------
21./22.10.2017 - "Art mile" in Düsseldorf-Unterbach

Partaking at the 19. "Art mile" of the Kulturinitiative Unterbach e.V. has gifted my wife and me with a wonderful weekend. Not only were we able to present our sculptures in the wild-romantic garden of our lovely hosts (Atelier Kühn-Löwe) and so showing their full potential - the discussions with all the visitors who were very much interested and knowledgeable in art were pure joy. The wide coverage of subjects was appreciated very much by the numerous visitors - the artistic coverage reached from painting and photography from our hosts over my sculptures to the little treasures of the jewelry manufacture  Ars Aureus. The date for next year's Art mile is in my diary already...
Some photographic impressions are shown here.
------------
30.03.2017 - Evening market at the Weberplatz, Essen


The very first "after-work-market" at the Weberplatz in Essen-North, a rather smallish but stylish event. Weather, atmosphere and ambiente made everybody ask for more, exhibitors and visitors. I was at the market stall of the Unperfekthaus (theme: "Art and Cake") and presented the "art" part and showed some finished pieces as well as how a sculpture is "peeled" out of a raw stone. Being on duty to answer all the numerous, friendly asked questions, I did not manage to sculpt a lot but working the stone was thought as an illustration rather than true sculpting. The ideas was to make the visitors curious about unusual and creative aspects of the Unperfekthaus and that turned out to work really well. So well indeed that I did not manage to shoot any pictures...
------------
2013 - starting with "big" stones
A friend from my wife's past had told us for quite some time about her good times at the workshops held by the artists of Shona-Art, and the sculptures she had made during these workshops were very convincing in style and manner indeed. So that year (2013) we took courage and booked a workshop.

Of course one starts thinking beforehand - artists from Zimbabwe, nothing more logical than a subject with at least African influences. Rather soon the story of "Rain Man" started to take shape in my thoughts and the shape of the sculpture itself became more and more alive - until I carried a pretty precise picture of this old farmer in my head.

Thenm finally, the big day, the first day of the workshop, was there.
We had been exploring the area in Witten (Auf Steinhausen) beforehand and were pretty impressed by the powerful, atmospherically rich but at the same time very elegant sculptures that are "just standing around" there. Our teacher - Merchers Chiwawa - introduced himself and we were very much impressed by his quietly-happy but very intense and careful manner, not just towards people but towards tools and stone as well.
All of us found their places where to install oneself and then the Old Hands got their supply of stone and tools so they could commence working already. Us "rookies" were taken to the stone hoard and been familiarized with the different types of rock - colour, hardness, peculiarities and how to sound-test a raw stone for cracks and loose pieces.

The very best advice, however, was "If you are looking for a stone, sit in front of the heap and listen which one talks to you!" - and, as strange as this may sound "talking stones", as much it came true for me. You look at the quarry stones, takes one's time, turns a stone this way and that or just shifts its position - and all of a sudden one knows that this is just the right piece one has in his hands. Suddenly one can fathom the shape that is hidden in this raw, fractured, bulky thing. Be that by an edge one recognizes or a change in colour or just because the stone looks different "upside down".

Thanks to this "listening" I faced a 86kg chunk of relatively hard black serpentine on my stand and the necessity to explain our tutor what I had seen in there and how I intended to get that out of the material. The former seemed rather difficult to me but by means of a bit of chalk and some pantomimic work in addition to the spoken word that was transmitted rather quickly - Merchers and I found, to our mutual pleasure, that we were talking the same language not just literally but artistically as well. Which, together with my then only professionally used ability to "see" in 3D things that are not yet existing, made answering the second question quite easy - sketching three shapes on three different sides of the stone and indicating the tooling direction gave our "Mudzizisi" (Shona for "teacher") a big grin and with the words "Exactly so - do it!" he handed me punch and mallet.

And - I don't know why and how - it worked for me right from there.
Many of my antecedent concerns (hard on the joints, sore muscles, how easy will the stone crack) were near instantly obsolete and the best part was: what my hands peeled slowly out of the raw material was indeed what I could "walk around" in my imagination.

In short: I had found the medium that allowed me to implement my artistic ideas.
Since that moment, regardless of what happens to me or around me, I have a small place in my soul where happiness is at home.